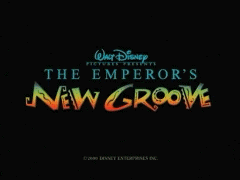 Groove Llama's Unofficial Site of:
Check out the official website for this film
(use the Flash version, it takes longer but it is well worth it)
Items found on this site are property of Disney unless otherwise noted. Use of these items is not intended to infringe on any copyrights but solely as fan appreciation and to spread the word on this great movie. This site is not connected with Disney Enterprises, Inc., its subsidiaries or "The Emperor's New Grove"





Puzzle
Here is a puzzle based on the movie.
SPOILER ALERT!!!
(If you haven't seen the movie continuing could ruin it for you)
What's Kuzco doing? Put the puzzle together (using drag and drop) and see for yourself!