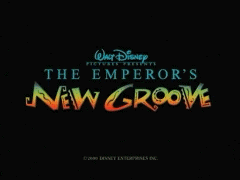 Groove Llama's Unofficial Site of:
Check out the official website for this film
(use the Flash version, it takes longer but it is well worth it)
Items found on this site are property of Disney unless otherwise noted. Use of these items is not intended to infringe on any copyrights but solely as fan appreciation and to spread the word on this great movie. This site is not connected with Disney Enterprises, Inc., its subsidiaries or "The Emperor's New Grove"





If there isn't a menu bar/frame displayed at the top of this page then click here.
Gallery
SPOILER ALERT!!!
(If you haven't seen the movie continuing could ruin it for you)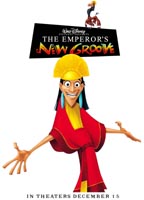 How can you have a movie without a poster?


After falling off a bridge and nearly plunging into alligator infested waters Pacha and Kuzco are forced to work together in one of the harrowing action scenes. Alone, they will both die. Together, they have a chance to live.


Emperor Kuzco shows how he thinks he is so above everyone else when in reality he is just one of us. Needing to try to find himself without even knowing it.


Emperor Kuzco unveils his own plans: Demolishing kicking Pacha and his family out of their home just so he can replace it with Kuzcotopia. Needless to say Pacha isn't very happy.


Kronk and Yzma invite emperor Kuzco to dinner to show him that there are no hard feelings on their dismissal. But in reality they plan on killing him!


Pacha, loyal till the end, rigs up a device in a desperate attempt to save Kuzco from the relentless Yzma and Kronk.


Pacha and Kuzco dangle from a collapsed bridge high over a deep gorge! They need some of that team work.


Pacha returns home to his loving and expecting wife, Chicha.


Kuzco and Pacha journey through the perilous jungle avoiding the dangerous animals that live there and the relentless pursuit of Yzma and Kronk.


Don't be fooled by Yzma charm, she'll end your life if a flash if it is to her advantage. That is what happens when you are older than beyond reason.


Yzma and Kronk enlist the aide of local woodland creatures in their conquest to do away with Kuzco once and for all. Fortunately, Kronk speaks squirrel.


Once again Kuzco and Pacha find themselves in a tight spot. Their only chance is to work together.


Yzma and Kronk relish in the mere thought of Kuzco's demise.


Kuzco and Pacha face more perilous dangers in the great outdoors as they try to get the emperor back to the palace.


Emperor Kuzco shows us what he thinks it is all about: Him! But we know better. Don't we?


Emperor Kuzco enjoys a song with his personal Theme Song Guy.
For more information visit the Disney Online Press Kit site for the movie.