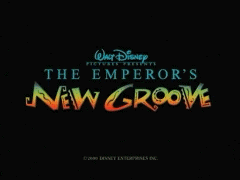 Groove Llama's Unofficial Site of:
Check out the official website for this film
(use the Flash version, it takes longer but it is well worth it)
Items found on this site are property of Disney unless otherwise noted. Use of these items is not intended to infringe on any copyrights but solely as fan appreciation and to spread the word on this great movie. This site is not connected with Disney Enterprises, Inc., its subsidiaries or "The Emperor's New Grove"





If there isn't a menu bar/frame displayed at the top of this page then click here.
SPOILER ALERT!!!
(If you haven't seen the movie continuing could ruin it for you)
Help for The Emperor's New Groove Center By GrooveLlama
This document will give you some direction for using the software. If I have missed anything please e-mail me at groovellama@yahoo.com.

Well, well, well. Looks like Yzma is at it again, she's trying to take over my kingdom. This software (and document) is all about ME! I also see you need some help in defeating her (or you wouldn't be here looking for my guiding hand, er, paw) So what are we waiting for? Let's get started!

STARTUP
As we begin Yzma speaks kindly about her great and noble emperor, me! Hey, you should hear what she called me last week! The first thing you need to do is identify yourself by typing in your name. Okay, you don't have to use your real name but I advise not using Kuzco, Pacha, Yzma or Kronk. These names will be accepted it is just that these names are already in the high score list so it could get confusing which score you actually did. I don't have this problem because I always let the royal scribe do all my typing. Once you enter in the name click on the OK button, not the OKAY button. Now Yzma will rant and rave of how all your efforts against her are futile (she really needs to get a new bit) Fear not, her bark is worse than her bite (I hid her dentures) The first time you come in she will explain all the different areas of the map. You can use what we in royalty call the spacebar to skip this intro. When you are ready click on the area you want to go to.

LOOMATION
This is a fun place to start. Here, as Kronk explains, is where you can create tapestries on the screen and animate them and include sound too. Then you can print them out but of course they aren't animated (unless you are a Disney artist) You can also e-mail them to a friend (but you had to have replied with Yes to the Internet option during the install of the software) This section is pretty easy to figure out (so Yzma would have issues) All I'll say is once you finish one panel of the tapestry (each has six) try playing it on the Loom-A-Vision projector (Do you kids even know what a projector is?) that way if you find a mistake or something you don't like you can fix it before you get too far.

KORNOTOPIA
This is a good place since you can't lose (there is no time limit) Pacha will start out by explaining the different features (What is with this guy and food?) To start off with click on the hoe in the lower right of the screen and drag it over to Pacha (Hopefully he won't think it is a candy bar) Now if you click on one of the 16 fields Pacha will start preparing the field for planting, I advise you to use the ones near Misty because once the crops are grown Pacha will have to carry them back to her (if you stay close it will speed up the game) Wow, this is the most work I have ever seen him do. You can tell when the field is ready for planting when it changes by showing rows in it. Now you need to plant the field, to figure out which crops you need click on Misty and a list will show. Pick up the bag of seeds you need at the bottom of the screen and give them to Pacha (hope he doesn't eat them) then click on the field you had him till, he will plant the seeds. You know when he is done when the field changes to crops. At this point, as Pacha obviously pointed out, the crops need water. Go to the bottom of the screen and pick up the water bag and give it to Pacha, click on your field to have him water it. Each type of plants needs a different amount of water: Beans 1 watering Tomatoes 2 waterings Corn 3 waterings Pumpkins 4 waterings This is important because if you over water something it will rot and you will lose the crop and have to start all over in the field. It is pretty hard for Pacha to over water something (even for him) because if you are about to over water he will state "Sure you want to water again?" So why did I bring all of this up? Because I'm the llama, er, Emperor! Also, in difficulty levels 2 and 3 weather plays a factor in this. If a crop is ready to be harvest and it rains the crop will rot away just as if Pacha over watered it. These are the types of weather that will randomly come across: Sun - Dries up one level of watering, if water level goes below the first level your crops will die Rain - Adds one level of watering, if water level exceeds maximum for the crop they will rot and die Tornado - Destroys all crops that have started to grow or are ready to harvest Snow - Destroys all crops that have started to grow or are ready to harvest Locus - Destroys all crops that have started to grow or are ready to harvest So you can see the dangers of being a farmer (besides having Pacha in the vicinity of food), this is increased if you try and work more than on field at a time. I suggest if you was to do this that you work only four fields at a time, that way you won't have that big of a set back if things go wrong. Once a crop is ready for harvest click on the basket at the lower right and give it to Pacha, then click on the field you wish to pick the crops for. He will pick up the crops and place them in the basket, now click on Misty (I'm jealous, she does less work than me!) and Pacha will put the basket on the cart. Once you succeed in filling my grocery list you win the game! Check out your score and give me my grub!

KROC KRUSHER
Pacha was suppose to come and pick me up but as always he is late. Well, things get interesting. This is the first game you can lose. As I explained in the intro (I must be the first emperor with a split personality) you must save me from the river of crocs. I will swing back and forth over the river, as time goes by the vine I'm hanging from will begin to stretch. Closer and closer I will drop towards the water. If I get low enough I'll become a croc snack! In case you haven't realized that is a bad thing! But you can avoid this. No, not by turning off your computer! Fortunately, I have spit (Will llama spit ever cease to amaze us?) Using the spacebar (No! Not the cantina from that Lucas film!) you can make me spit at a board directly above me, it will fall into the water. If it happens to hit a croc when his mouth is open you will knock that croc out of commission (I bet you didn't know crocs work on commission) Knock out enough crocs and I'm saved. Okay, so how many crocs is enough? Check out the croc-o-meter to right. When it is all green I win, er, I mean you do. You can use the left and right arrow keys to change the directions of my swing but you can't stop me (Because I'm the emperor!), this could be to your advantage. Since the cocks first blow bubbles before they surface (Trust me, you don't want to know how they create the bubbles!) change my direction just above the bubbles and spit, if you time it right a board from the bridge will fall into a croc's open mouth and take him out. The only thing preventing this strategy is that bats and birds fling between me and the bridge, they can block you spits. But this is could be a good thing. If you hit a bat you jump into rapid fire mode (If you tap the spacebar fast enough you can bring down a solid wall of boards taking out more than one croc at a time) If you hit a bird you shorten my vine (giving you more time) On harder levels there are more birds/bats, more crocs you must bash to win and fewer boards to use in the bridge (you won't run out but they are spaced out more) Because of this some crocs you won't be able to get because there are no boards over them. With each game the board placement are randomized. There is no limit to your llama spit so fire at will. When you win check out your score. But not before you get me a towel and it better not have a name of a hotel on it!

YZMANIA
Ooo! I love a parade! Oh wait, those are Yzma's guards and they are coming up to get me! No need to panic, this is only the hardest game of them all. Oh wait, I wasn't suppose to give you some encouragement. Well, at least this time you have the potions. You can use them to change the guards into animals and they will run away. You have an unlimited supply so toss away. Hmmm, that doesn't sound too hard. Oh wait, there are four colored animal symbols on the top level one facing each direction: Blue fish Green birds Orange monkeys Pink cats I know the list sounds like something from a children's book but its not. You can only throw the potions at the same colored guards facing it. Still not too difficult? Well how about in level two the symbols start rotating and in level three they flip 180 degrees back and fourth! Also at higher levels the guards come at you much faster plus there are trap doors where a guard can pop out of them (allowing them to start higher up than the others) You get four chances. A guard from each color has to make it to the top for you to lose. If a guard does make it then you don't have to worry about hitting the same colored guards. The guards that are closest to you have priority but don't focus on just them, try to multitask (Multitask on a computer? What a concept!) and try and keep a balance of colors. If you are having a real difficult time concentrate just on one color guards (since if only three colors make it to the top you still win) If you win without allowing a single guard up then you rock (plus your score is higher) because you get to give Yzma a present. Hey! How come she only gets presents? When you win check out your score. Then call my agent. We'll do lunch.

FINALE
Unfortunately, all good things must come to an end. Well, of course that doesn't include me. If you manage to master all three games at level three and then make a tapestry using only llamas you will get a bonus! All the characters from the movie will come out and do a concert for you. If you believe that I have a bridge you may be interested in buying from me. You know the one that says Brooklyn on the side. Now try and do the entire program over without using this help! After that go and see the movie, rent it 50 times and then buy several copies of the DVD and video even if you don't have players! Oh yeah, be sure to visit the official site and my site.
Booya!