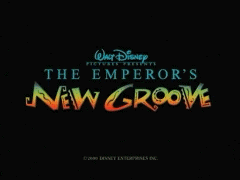 Groove Llama's Unofficial Site of:
Check out the official website for this film
(use the Flash version, it takes longer but it is well worth it)
Items found on this site are property of Disney unless otherwise noted. Use of these items is not intended to infringe on any copyrights but solely as fan appreciation and to spread the word on this great movie. This site is not connected with Disney Enterprises, Inc., its subsidiaries or "The Emperor's New Grove"





If there isn't a menu bar/frame displayed at the top of this page then click here.
Desktop
SPOILER ALERT!!!
(If you haven't seen the movie continuing could ruin it for you)
Screen Savers
You can download a screen saver from the Official site. You can also download special software from Screen Dragon where it plays the movie trailer as your screen saver.
Trailers
You can download a movie trailer from the Official site. You can also get a different one at the Rotten Tomatoes site.
Backgrounds
You can download a backgrounds from the Official site.
Sounds
You can download wav files from the Official site.
ECards
You can send Greeting cards from the Official site.
Masks
You can make your own Kuzco/Lllama mask from the Official site.
Animated Gifs
Bonk the Llama!
Bust the Bust!
Growing Ears!
Kuzko Arrow!
Kronk's Drink
Kuzco Struts His Stuff
Kuzco Whine!
Pacha of the Jungle!
Pull the Lever!
Yzma Knife!