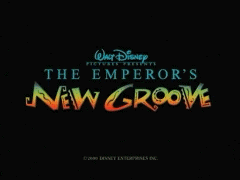 Groove Llama's Unofficial Site of:
Check out the official website for this film
(use the Flash version, it takes longer but it is well worth it)
Items found on this site are property of Disney unless otherwise noted. Use of these items is not intended to infringe on any copyrights but solely as fan appreciation and to spread the word on this great movie. This site is not connected with Disney Enterprises, Inc., its subsidiaries or "The Emperor's New Grove"





If there isn't a menu bar/frame displayed at the top of this page then click here.
Audio
Here are some sound bytes from the movie. They are in Real Audio format so you'll have to have a player to hear them.
SPOILER ALERT!!!
(If you haven't seen the movie continuing could ruin it for you)
Kuzco
"Aaaaah!"
"Aaahhh"
"Boom baby!"
"Booya!"
"Bring it on"
"Bye-bye, bye-bye"
"Demon llama! Where?"
"Don't tell me. We are about to go over a huge waterfall"
"Haaa!"
"He, he, he, he"
"Hey, everyone hits their stride"
"Hey Kronk. Can you top me off pal? Be a friend."
"I can't believe this is happening!"
"I'm so happy"
"Look at me and my bad self"
"Nananana"
"Nohaha!"
"Now I feel really bad. Bad llama."
"Oh"
"Okay, that was the freakiest thing I have ever seen"
"Oh by the way, you're fired"
"Oh yeah"
"Okay"
"Ooooouh"
"Oooyeah!"
"Ow! You did that on purpose"
"Scorpions! Bahaha!"
"Sharp rocks at the bottom?"
"That's Yzma and Kronk! I'm saved!"
"This story is about me, not him"
"Uhoh"
"Was this woman scary beyond all reason?"
"What are you... Doing?"
"Whoa! Now touchy! No touchy."
"Yeees!"
"You kidnapped me"
"You know, it is a good thing you're not a big fat guy or this would be really difficult."
"You threw off my groove"
"You're not going to believe this... But I'm the coolest, most important guy in the world. I'm a rich powerful ball of charisma"
"You're the criminal mastermind, not me"
Pacha
"Don't worry your highness, I got you. You're safe now."
"Eeeeeew"
"Huh"
"Most likely"
"Ohh"
"Oh yeahh"
"Or not"
"Tired of being a llama?"
"We'll have two specials"
"We're going to have to work together to get out of this"
"Where did you come from little guy?"
"Why did I ever risk my life for a selfish brat like you?"
"Why me?"
"Why would I kidnap a llama?"
"Wwwwwhat!"
"Yep"
"You're just going to have to trust me!"
"You just saved my life"
Yzma
"A toast, to the emperor"
"Ahha!"
"Ask him which way the talking llama went"
"Back to work"
"Get them!"
"He's still alive?"
"I'll just poison him with this"
"I'll take over and rule the empire"
"Llama? He is suppose to be dead!"
"Long live Kazoo!"
"Pull the lever, Kronk"
"Take him out of town and finish the job"
"Tell me about it"
"Tell me Kuzco's dead"
"Then I bet you weren't expecting this"
"What!"
"Wrong leverrr!"
"You're excused"
Kronk
"Ah, he really doesn't want to talk to you"
"Ah squeaky squeak squeakin"
"Gah! My spinach puffs!"
"He's not as dead as we would have hoped"
"Kronk here"
"Mission accomplished"
"Pickup!"
"Rrrrright"
"Sorry, no substitutions"
"Ugghh!"
"Yeah, weird"
"Yzma!"

Guard
"Hey, I've been turned into a cow. Can I go home?"
"I'm sorry but you've thrown off the emperor's grove"
Peasant
"Sworry"
Bucky
"Maiedehumin"
"Dadee"
Scenes
Bucky
Criminal Mastermind
Dagger
Excused
Jaguar Chase
Pulling Lever
Saved
Still Alive
Waterfall
Sound Effects
Balloon
Boing
Bonk
BonkBonk
Break
Crack
Lever
Pluck
Punch
Pop
Roar
Wrap
To get some sound files in WAV format visit the Official Movie site.